Preparing a building component or assembly for fabrication is a time-consuming process that depends on numerous complex factors. BIM facilitates a variety of related design and construction activities, including digital fabrication and shop drawings of building components. BIM enables digital design-to-fabrication workflows for all building disciplines.
If we use prefab elements or those that only need to be assembled in the final location, there are changes during the workflow. That is, you must choose the elements and manufacturer much earlier, download them, and start the modeling. The architecture studio and the other agents can make more precise decisions.
BIM facilitates and experience of visualizing virtual reproductions of the modules which is essential for clash detection and for choosing the optimum material selection. BIM features enable prefab or modular construction with more efficient workflows than in traditional construction.
Adapting innovation into end-to-end process
Shifting projects to products, off-site manufacturing and industrialization of construction drove a tangible investment in technology and advanced technology-driven facilities. Adapting fully integrated digital technologies such as BIM & ERP enabled better collaboration, greater control of the value chain, and a shift toward data-driven decision making.

Our deep understanding of off-site construction processes and years of experience in adapting BIM in engineering allowed us to successfully use BIM in operation, adapting a qualified end-to-end ERP system. By successfully integrating a 5-D BIM model with the value chain and complete production process, we can link activities from formulating the initial concept to producing the finished product. Value-Chain control via this successful integration what makes our innovation unique.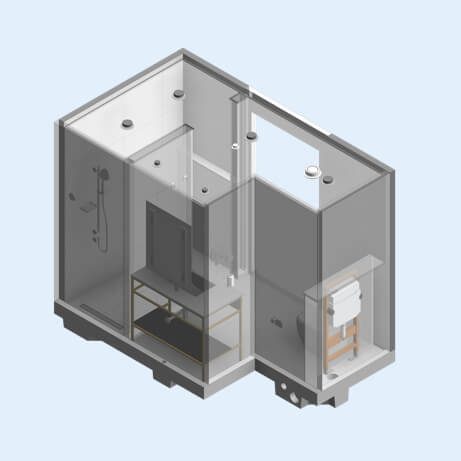 Design Stage
The 3D geometry of the BIM model is created and enriched with material characteristics (parameters, metadata). Coordination between design disciplines (AR, STR, MEP) reduces errors and changes during the Build phases. An accurate 3D model is validated and used to determine exact quantities for pricing and estimation.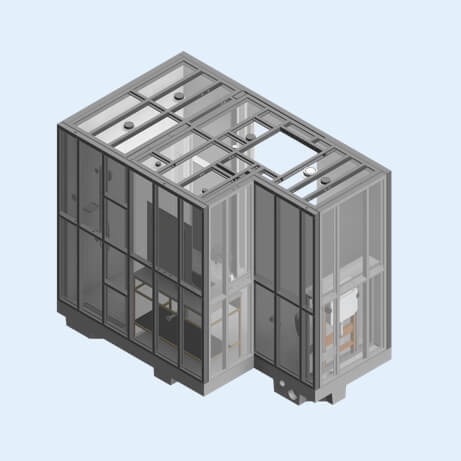 Production Stage
Our end-to-end ERP System will capture the data and initiate planning to ensure a smooth flow for the build phase. The project is split into sequential activities and zoned accordingly; resources required for each task's execution are assigned to the schedule from zone leaders. Programs, materials characteristics, and accurate BOM's are extracted from BIM and loaded into the ERP platform to enable proper management during the production stage and supply chain channels.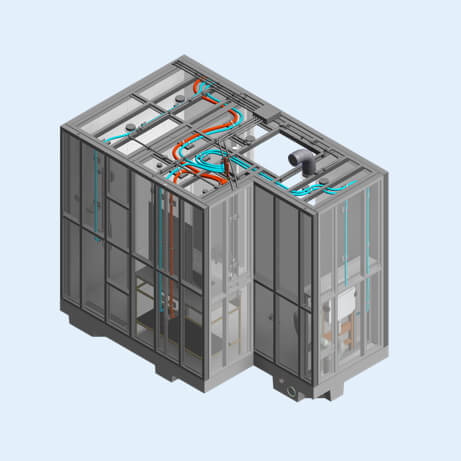 Strategic competitive
advantages